Nico Rosberg will start his Chinese Grand Prix from the pole position slot after blitzing the field by half a second in Shanghai.
It took Rosberg 110 starts to get there, however, he won't be counting that number. In a perfect lap to start Q3, Rosberg clocked a 1:35.121 to edge Lewis Hamilton by a massive 0.505s.
With Hamilton incurring a five-place grid penalty for a gearbox change it will be an all-Mercedes front row as Michael Schumacher moves up from third to second.
Kamui Kobayashi was fourth quickest on Saturday and will therefore move up to P3 on the second row alongsideKimi Raikkonen.
Jenson Button is up to fifth and will start with Mark Webber alongside him. Hamilton is down to P7. The big surprise of qualifying was Sebastian Vettel failing to make Q3.
Qualifying 1
There was hazy sunshine over The Shang circuit as qualifying hour started with an ambient temperature of 21C and the track at 26C.
Paul DiResta set the first P1 at 1:38.190 for Force India, which was reduced to 1:37.964 by Felipe Massa, 1:37.945 by Nico Hulkenberg, 1:37.521 by Romain Grosjean and then 1:37.165 by Jenson Button.
However it was McLaren team-mate Lewis Hamilton who took the times into the 1:36s with a 1:36.763. Hamilton was faced with a five-place grid penalty for a changed gearbox after Malaysia so would automatically drop to the third row or lower.
Sebastian Vettel and Mark Webber had gone down two different development toutes with the exhaust positions on their car and it was Webber's version of the RB8 that looked quickest, Mark reducing P1 to 1:36.682.
All the teams had set their initial times with the harder Prime tyre, but Felipe Massa knew from an early stage that he would have to run soft having ended the first round of times in P16. So with eight minutes of the session left he was already out on track on the soft Option tyre and using it to good effect putting his car ahead of Webber's in P1 with a 1:36.556.
Romain Grosjean did the same in his Lotus with a 1:36.343, while Paul Di Resta set the P3 time behind Grosjean and Massa. Fernando Alonso wasn't taking any risks either and set off on a set of primes to take P1 down to 1:36.292. he was followed over the line by his now-familiar shadow, Sergio Perez, with an even better 1:36.198
Running into the last four minutes it was the new teams in the bottom six, but above that the order it was: 15.Senna, 16.Hulkenberg, 17.Ricciardo, 18.Vergne. The Torro Rossos looked firmly the slowest of the bunch and so it proved, Vergne failing to get ahead of his team-mate Ricciardo and Ricciardo failing to get in front of anyone else.
Ominously Sebastian Vettel's time fell right down the order and he finished the session in a lowly P.15.
So out went: 18.Vergne, 19.Kovalainen, 20.Petrov, 21.Glock, 22.Pic, 23.De la Rosa, 24.Karthikeyan (all inside 107%)
Qualifying 2
Kamui Kobayashi was in a mood to show that Sauber had two frontlines drivers, not just a brilliant Mexican and set the first P1 time at 1:35.962, this was only just surpassed by Kimi Raikkonen who put in a 1:35.921 and not thoroughly shamed by Nico Rosberg who reduce P1 to 1:35.725 – with Michael Schumacher slotting into P2.
Schumacher had never started the Chinese GP higher than 6th and today definitely looked like the day he would improve.
After the first runs there were some unusual positions with Hamilton P3, Vettel P6, Button P7 and Webber P9. So the danger positions with four minutes to go were: 7.Button, 8.Perez, 9.Webber, 10.Alonso, 11.Maldonado, 12.Hulkenberg, 13.Ricciardo, 14.Senna, 15.DiResta, 16.Massa, 17.Grosjean (who'd wandered off track on his first run but not found gravel)
Vettel put in another lap and went faster but stayed P6, Webber moved up to a less-than-convincing P8, Fernando Alonso jumped to P6, Massa moved to P10, Paul DiResta could only manage P11, and then Sergio Perez set things alight by putting his Sauber in P3.
This meant that Button had now been pushed down to P9 with Mark Webber in a perilous P10 – and all this with Romain Grosjean at last achieving the true pace of his Lotus (Raikkonen was safe and sound in the top 10).
Webber then showed why his car is the best version of the RB8 by taking P1 with a 1:35.700, Button improved to P8. Grosjean came across the line in P7 pushing Alonso to P10, but worse Vettel into P11 and out of Q3. Incredibly at the end of the session, the top 11 cars were covered by just 0.3 of a second
So out went: 11.Vettel, 12.Massa, 13.Maldonado, 14.Senna, 15.DiResta, 16.Hulkenberg, 17.Riciardo.
It had been a poor qualifying from Vettel but even though Felipe Massa hadn't made Q3, he was just 0.3 behind team-mate Alonso.
Qualifying 3
The temperature started to drop at the beginning of Q3. Kimi Raikkonen was out first and set provisional pole at 1:35.898. He was followed home by Nico Rosberg who set a blistering pace. Considering the top 11 in Q2 had been covered by 0.3 of a second, Rosberg suddenly went 0.6 quicker than he'd gone in the session before, hooking up the most perfect lap.
It looked like pole already, and so it proved. Lewis Hamilton could manage only a distant P2 on scrubbed Options and Michael Schumacher (staggered by Rosberg's lap) a distant P3. Only Rosberg, Raikkonen, Hamilton and Schumacher went out for an initial run while the remaining six waited for the track to clear. As it was the temperature went down and the track got slower.
Webber (much slower than his Q2 time) came home in P5, that was bettered first by Button and then by Kamui Kobayashi who put his Sauber C31 up to P4.
When the initial runners came out for a second time, they could go no quicker and so confident was Rosberg that he wasn't going to improve that with two minutes of the session left he was already striding down the pitlane to be weighed.
So Nico Rosberg clinched his first ever pole position in the FIA inspection garage while the rest of the session petered out in anti-climax. Hamilton knew that he was never going to get near Rosberg's time and aborted his final lap, Schumacher knew he wasn't going to beat it and didn't have to beat Hamilton as the Brit had a five-place gearbox penalty.
Hamilton's removal from 2nd to 7th puts him right behind Jenson Button on the grid and makes it an all-Mercedes front-row – their first silver arrow pole since the Italian GP in 1955.
What's more it elevates Kamui Kobayashi to P3 alongside Kimi Raikkonen in P4. With Mercedes yet to beat its tyre degradation problems in the race, the Sauber and the Lotus might inherit the front two places if they just hang around on Sunday. Also, with the race pace of the Red Bulls and the Ferrari liable to move them up the order it is going to be a fascinating Chinese GP to behold.
Times
01 Nico Rosberg Mercedes 1:35.121
02 Lewis Hamilton McLaren 1:35.626 0.505
03 Michael Schumacher Mercedes 1:35.691 0.570
04 Kamui Kobayashi Sauber 1:35.784 0.663
05 Kimi Raikkonen Lotus 1:35.898 0.777
06 Jenson Button McLaren 1:36.191 1.070
07 Mark Webber Red Bull 1:36.290 1.169
08 Sergio Perez Sauber 1:36.524 1.403
09 Fernando Alonso Ferrari 1:36.622 1.501
10 Romain Grosjean Lotus No time
11 Sebastian Vettel Red Bull 1:36.031 0.33
12 Felipe Massa Ferrari 1:36.255 0.555
13 Pastor Maldonado Williams 1:36.283 0.583
14 Bruno Senna Williams 1:36.289 0.589
15 Paul di Resta Force India 1:36.317 0.617
16 Nico Hulkenberg Force India 1:36.745 1.045
17 Daniel Ricciardo Toro Rosso 1:36.956 1.256
18 Jean-Eric Vergne Toro Rosso 1:37.714 1.422
19 Heikki Kovalainen Caterham 1:38.463 2.171
20 Vitaly Petrov Caterham 1:38.677 2.385
21 Timo Glock Marussia 1:39.282 2.990
22 Charles Pic Marussia 1:39.717 3.425
23 Pedro de la Rosa HRT 1:40.411 4.119
24 Narain Karthikeyan HRT 1:41.000 4.708
http://www.planetf1.com/news/3213/7671663/Qualy-Rosberg-On-Pole
————————————————————–
Nico Rosberg was arguably the happiest man in China on Saturday as the Mercedes driver finally bagged his maiden pole position at his 110th GP.
With his aid of his W-duct, Rosberg clocked a 1:35.121 around the Shanghai circuit.
Although it was set early in the qualifying shoot-out, the time proved unbeatable – and by some margin as his closest rival, Lewis Hamilton, over half a second adrift.
It was a monumental occasion for Rosberg as it was his first-ever F1 pole position and Mercedes' first since 1955.
"It went really well and it's a very special feeling," said Rosberg.
"It's fantastic, it all came together. It's perfect until now so I am very happy. It shows that we are moving forward.
"We changed the set-up of the car slightly before my last run and then I had the perfect lap. It worked out really well."
The German, though, admits that just because qualifying went well that doesn't mean Sunday's race will play into his hands.
In fact, Mercedes struggled in the opening two races of the campaign where tyre wear proved to be their downfall.
"We are not quite where we want to be in the races, but we are progressing," he added.
"The first two races of the season have not gone too well so the season starts now." / planetf1.com

————————————————————–
Michael Schumacher finally happy with car's handling at Shanghai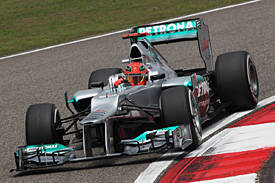 Michael Schumacher says he has finally got his hands on a car that allows him to enjoy the Shanghai circuit, after securing a spot on the front row for the Chinese Grand Prix.
The seven-time champion will start alongside Mercedes team-mate Nico Rosberg, and reckons the performance had changed his opinion of Shanghai.
"If you don't have a balanced car it [Shanghai] is a nightmare and probably this Silver Arrow is the first car that handles very good here," he said.
"So I have started to like the track a little bit more this year compared to the previous years."
Schumacher said that it was fairly obvious he was enjoying F1 much more now, having delivered his best qualifying performance since Japan 2006.
"It is natural when you are in difficulties you know what it needs to get out of that," he said.
"It needs patience and focus. That is what we all had and now we take the fruits from all the work and effort we put in. Naturally you are more happy at the front end, where we are right now."
http://www.autosport.com/news/report.php/id/98827
————————————————————–
Lewis Hamilton revealed that his MP4-27 was set up more for the race than for qualifying as he was set to incur a penalty anyway in China.
Entering Saturday's qualifying, Hamilton was well aware that whatever position he qualified in would not be where he starts the Chinese GP after he being hit with a five-place penalty for changing his gearbox.
As a result, McLaren opted to go gear his car up more towards Sunday's 56-lap race at the Shanghai International.
"Looking at the race, we've got a good car but I'm going to have to work my way up through the field tomorrow," said Hamilton, who was second quickest but will start P7.
"But as long as I move forward in the race, I'll be happy.
"I've set my car up to be at its strongest in the race. So, although Jenson and I are a little bit further back than we'd like, and we've got a bit of work to do, we can still make it.
"There's a good group of drivers ahead of us on the grid, but we're right with them in terms of race pace. This is a track where you can overtake, and we've got DRS too – so I'm massively excited about tomorrow."
One of the drivers Hamilton will have to overtake if he wants the victory is Rosberg, who claimed his first-ever F1 pole position by 0.505s ahead of the McLaren driver.
And Hamilton was one of the first to congratulate his friend.
"Very big congratulations to Nico today. We first met back in 1997 and were team-mates in 2000. We've been good friends ever since.
"When we were team-mates, we always dreamed of qualifying first and second together in Formula 1 – and it's crazy that we did that today. / planetf1.com

————————————————————–
Sebastian Vettel has no regrets over sticking with old exhaust after qualifying 11th for Chinese GP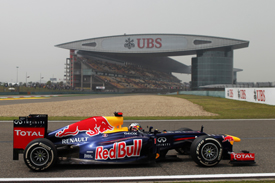 Sebastian Vettel said he has no regrets about his decision to stick with Red Bull's old exhaust design, despite going out in Q2 for the first time in 43 races.
The world champion decided to use the old exhaust layout for the weekend, while his team-mate Mark Webber opted for the latest?-specification unit.
Vettel failed to make it into the top 10 in qualifying for the first time since the 2009 Brazilian Grand Prix.
The German said he was happy with how he had performed during qualifying, but he conceded that his times were simply not quick enough.
"It's always easy to say this and that now, but I was happy with the car yesterday and that's why I decided to stay as we were," said Vettel.
"I was happy with the laps I had in qualifying. There were no mistakes, but they weren't quick enough. It's as easy as that.
"Yesterday I was happy with the car. We decided to stick with the current settings and I don't want to blame it on the car. Three times I did exactly the same lap, and three times it wasn't quick enough to make it into Q3."
Vettel admitted he was disappointed to be starting from so far back, but he reckons he still has a chance to put on a good performance in? the race.
"Obviously I'm not happy," he added. "As I said, I was pretty happy with the laps I had in Q2, but they weren't quick enough. We have to start the race from P11 and see what we can do tomorrow. Surely it makes it a bit harder, but not impossible to do a good race.
"I was pretty happy with the car today, but it was pretty close. Unfortunately we weren't able to take the final step. There's a lot of work to do, but there's a very long race tomorrow, which gives us lot of chances."
Team boss Christian Horner downplayed the difference between one exhaust layout and the other, saying the gap between Vettel and Webber was not necessarily down to it.
"Not necessarily. The characteristics are slightly different but it's hopefully suiting both drivers' different driving styles," Horner told Sky TV. "If you look at the first and second sectors there is absolutely nothing between them, so the difference seems to be in the third sector." / www.autosport.com
————————————————————–
Jenson Button thinks Kobayashi will be a factor in the Chinese Grand Prix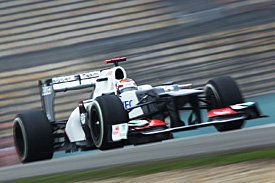 Jenson Button has warned that Sauber driver Kamui Kobayashi will be a factor in the Chinese Grand Prix.
Kobayashi starts the race from third on the grid and his practice pace suggests that he can maintain that for into the race.
While Button, who starts fifth, expects Mercedes to drop back despite Nico Rosberg and Michael Schumacher starting on the front row, he is less confident about being able to get ahead of the Sauber.
"It's not easy starting from where we are, but most of the cars in front are ones that we are quicker than in the race," said Button. "The one that is unusual is Kobayashi.
"Their [Sauber's] pace seems very good on long runs. I think he's going to be pretty tricky tomorrow."
Button is hopefully of being able to fight his way into contention for victory and predicted that the early stages of the race will be dramatic because of the unusual qualifying order.
He suspects that he and team-mate Lewis Hamilton, Kobayashi and the Lotus of Kimi Raikkonen could have a pace advantage over the Mercedes once the race is underway.
"It's a completely different grid to what we have seen so far, so it will be an exciting first few laps," said Button. "We have Kamui just in front so that's going to be a lot of fun.
"You'd probably say that the Mercedes race pace is not as good as those behind them."  / www.autosport.com
————————————————————–
Kimi Raikkonen disappointed with Lotus pace in China qualifying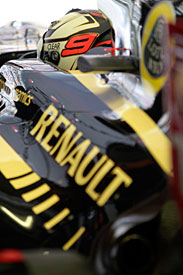 Kimi Raikkonen admitted he was disappointed with the pace of his car during qualifying for the Chinese Grand Prix.
Although the Finn will start from a season-best fourth position, he said he was expecting his Lotus to be quicker after the promise of the first two races.
Raikkonen finished over seven tenths of a second off the time set by Mercedes's Nico Rosberg, and although he said he was pleased with his starting position, he expected to be closer to the front.
"It was not too bad, but I am a bit disappointed with the gap to the front and I think we were stronger in the last race than we were here," said Raikkonen.
"The grid position is okay but when you look at the times, I'm disappointed with the pace of the car today. The rest have improved and we have not."
When asked if he could have extracted something more from his car, he said: "No, the car couldn't go much faster, we tried but we couldn't go much faster."
The Finn reckons Lotus's chances of a strong race will depend on the temperature rising for tomorrow's event after a cool day on Saturday.
"Usually our car is good in the race but it would need to be hotter and that should help us and hurt the other teams so we have to see how it goes," he added. / autosport.com

————————————————————–
Pastor Maldonado and Pedro de la Rosa reprimanded for impeding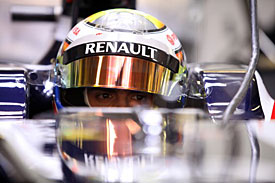 Pastor Maldonado and Pedro de la Rosa have been given reprimands for impeding other cars during qualifying for the Chinese Grand Prix.
Williams driver Maldonado was under investigation for having blocked Caterham's Heikki Kovalainen, who said after qualifying that he was expecting the Venezuelan to be penalised.
Maldonado, however, was only reprimanded by the stewards.
"He was weaving on the back straight and I was getting very close to him, so obviously he had no intention of letting me by. By the last corner I was right up his bum," said Kovalainen.
"It didn't cost us much time because I was able to do another lap later on, but in any case he made a mistake and I think he'll probably have to pay for it."
De la Rosa was reprimanded for having impeded Maldonado's team-mate Bruno Senna during Q1. / autosport.com
————————————————————–
Fernando Alonso says title thoughts far away as Ferrari struggles again in Chinese Grand Prix qualifying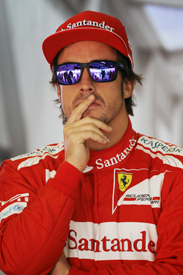 Fernando Alonso is under no illusions that Ferrari will have to improve its car drastically in order to stay in contention for the championship.
The Spanish driver is leading the standings after his win in Malaysia, but he could only qualify in ninth position ahead of the Chinese Grand Prix, nearly 1.5 seconds off the pace.
The Ferrari driver concedes he is not thinking of the championship as his team's form is far from what he was hoping for in order to fight for victories.
Alonso admitted his car has 'big' problems with the aerodynamics, but he reckons that gives Ferrari hope that it can make big gains once it solves them.
"At the moment we all stay focused in the next race," said Alonso. "I think the championship is a target for Ferrari every year because of the history and the way the team is racing, with the passion to win. But obviously we are not stupid.
"We know we are far behind and we need to work. One second is a big gap to recover, but the car has some big problems in terms of aerodynamics which give us the optimism inside the team that we can recover, maybe not one second, but a lot of time if we put a couple of things that are not working in the right place.
"This is the first priority. Once we are happy with the car, we'll see what's the gap. At the moment it's too big because it doesn't work."
Alonso, who fended off Sauber's Sergio Perez to win in Malaysia, said he was not surprised by the pace of the Swiss squad after qualifying behind both the Mexican and his team-mate Kamui Kobayashi today.
"They were one of the quickest in winter testing. They were one of the quickest in Australia and maybe they deserved the win in Malaysia."
The Spaniard did beat world champion Sebastian Vettel in Saturday's session, and he said the German's position is the result of Red Bull not getting everything perfect now it does not have a big edge over its rivals.
"I think Red Bull is not a second in front of everybody, so the qualifyings and the races are more difficult," Alonso said. "You need to be perfect in everything. If some things don't go in the right way, the times are so close that it puts you out of Q3. And maybe this was one of those occasions." / autosport.com

————————————————————–
Ross Brawn was all smiles after seeing his Mercedes team – with a bit of help – lock out the front row of the grid for the Chinese GP.
Nico Rosberg claimed pole position around the Shanghai circuit in emphatic style, easily half a second up on Lewis Hamilton while Michael Schumacher was third.
However, Hamilton's grid slot penalty means the Mercedes team will start Sunday's 56-lap grand prix 1-2 on the grid.
"Quite exceptional performance, particularly from Nico today," Brawn told Sky Sports F1.
"We've had a tough start to the season and we know this is not the main event, the main event's going to happen tomorrow, and I think we've still got work to do to replicate what we've been able to do today in the race. But it's a great step.
"I hadn't realised it's our first pole in such a long time, so very proud of that and the whole team is very proud of it. And a good step towards what we're trying to achieve."
Another person who was very proud of the team – and Rosberg's – achievement was his team-mate Schumacher.
The seven-time World Champ said: "I didn't think we would fight for pole position and seeing what Nico could do was a big surprise for all of is.
"It was a phenomenal lap time and I happy for him taking his first pole. It will also be the first front row of the proper Silvers Arrows."
Schumacher, though, admits it won't be an easy talk holding onto those positions come Sunday's grand prix especially as race-pace has not been Merc's strong point this season.
"It is a question mark if we can keep that position, but we will see what happens tomorrow.
"We have a question of high fuel and tyre degradation. Hopefully it will be the first proper normal race and I can get to the end." / planetf1.com

————————————————————–
Mark Webber concedes the tables have turned this season as, unlike last year, Red Bull are no longer the dominant force.
In what was arguably the biggest shock of this season to date, last year's record pole sitter Sebastian Vettel failed to make it into Q3 in Shanghai on Saturday.
And it was not a crash that put the German out in Q2, rather it was a lack of pace.
Webber at least fared a bit better will the Aussie set to start Sunday's Chinese GP from sixth place on the grid having been elevated one position after Lewis Hamilton's penalty.
Webber's qualifying time, though, was 1.169s short of Nico Rosberg's pole position time.
"It's a different Championship this year, it's tight," conceded the Australian. "Any bobble… If I made a mistake on my second lap in Q2, I'm out as well. So it's very easily done.
"It was the best we could do, but in the end it wasn't enough. We're learning a lot, and it's a tight field. If you're not getting everything completely together, then you're exposed."
He added that Saturday's results are proof that Red bull still have a lot of work to do to get up to speed.
"We can keep saying we're gonna get there, but we've got to do it. The team is working very, very hard, the guys have done a great job, but we have some pretty quick cars out there. I think today was dominated by tyre prep and tyre awareness I suppose.
"We know the Mercedes is very, very hard on its tyres, so that night have helped them on one lap today. I've been there, like the old Jaguar days, very fast in qualy but hard in the race. Let's see how it goes. We're very strong in the grands prix, so looking forward to it.
"We'll see how the tyres go. Temperature seems to be playing a big role this weekend on the tyres." / planetf1.com
————————————————————–
In a rather strange analogy, at least on the face of it, Ferrari President Luca di Montezemolo says his lead driver has described Ferrari as "ants."
Ironic that in the midst of their woes – and Ferrari are having several of those at present – Formula One's biggest race team has been likened to one of nature's smallest creatures.
Speaking to Gazzetta dello Sport about the situation at Ferrari, the team's president said: "There's a lot of work to be done and I'd never have expected to be leading the World Championship after two races.
"We know we have a lot to do and it'll take another few weeks to improve the car, but we'll try to limit the damage as best we can in these two races.
"I spoke to Fernando Alonso yesterday and he told me we are behaving like ants, bringing a few grains of wheat home and then if it rains so much the better."
Heading into Sunday's Chinese GP, Alonso is leading the Drivers' Championship on 35 points, five ahead of Lewis Hamilton thanks to his surprise victory at a wet Malaysian GP.  / planetf1.com

————————————————————–
Saturday's FIA press conference
Mercedes duo Nico Rosberg and Michael Schumacher were joined by Lewis Hamilton for the post-qualifying press conference in China…
Q: Nico, sensational lap how do you feel about your first F1 pole?
Nico ROSBERG: Fantastic, yeah, thank you. It went really well, it's a very special feeling definitely. Now obviously looking forward to starting first tomorrow.
Q: Where did you find the time?
NR: The track was cooling off a little bit, the temperatures were coming down slightly and so the rear tyres started to work a little bit better. Changed the setup of the car slightly before the last run and just got a perfect lap so it worked out really, really well.
Q: Lewis, moving to you, you virtually grew up with Nico through the karting and the single-seaters. Tell us how you feel first of all about his achievement today?
Lewis HAMILTON: Big congratulations to Nico, it's fantastic and really done in style: it's quite a big gap between us. I'm very proud of him and obviously we grew up racing together and always dreamed of being in Formula One together and now we're on the front row together. Obviously I've got a penalty but still, it's a good day.
Q: And what about your own performance today and how you feel you're fixed for the race, bearing in mind where you're going to start on the grid tomorrow?
LH: We're in a good position I think. I made some good setup changes to the car, it feels good, particularly for the long runs. It's going to be tough for sure, there are a lot of good drivers ahead of me but I'll be pushing as hard as I can.
Q: Michael, we heard you on the radio asking for Nico's lap time and when the engineer told you, you sounded pretty surprised by what he'd achieved. Sum up what you think about what you two have done today.
Michael SCHUMACHER: No, I said actually 'well done', because that was a phenomenal lap time. For all of us, to see the gap that big is a bit of a surprise but there you go. He's known as a good qualifier and no reason [for me] to be unhappy. The opposite: happy for him for his first pole. Congratulations as we know – I guess – it's going to be the first [front] row of a proper Mercedes Silver Arrow that we're going to take place in the Shanghai Grand Prix tomorrow. That's a great achievement.
Q: That's right, with Lewis moving five places back.
MS: Good for us!
Q: How about your race situation? Obviously you've qualified well inn these cars so far this season but we've seen you go backwards in the race. Do you think it'll be easy on the tyres tomorrow in this car?
MS: Well, my two races, one I retired and the other one I got put backwards by being spun around, so it's not completely clear what we would have seen with our car. It's certainly a question mark whether we would have been able to keep up that position but we'll try our best to do so.
Q: Back you Nico, that's qualifying over with but what do you feel you can do in the race because Mercedes certainly need the points tomorrow, don't they?
NR: Yeah, for me it's also sort of the start of the season now because the first two races haven't gone too well. So it's not bad to start first, obviously for us it's fantastic. Of course it's pretty clear I think that in the race we been not quite as good as in qualifying lately. We've worked very hard to try and improve that but it's not something you can change in a few weeks. It's going to take some time but we're making good progress in the race, that's important. It's difficult to know exactly where we're going to be tomorrow because again with the conditions changing, if it becomes a little bit colder that might help us, for example. I don't really know how it's going to go. For sure we're going to try our best. We're going to work hard tonight to try and do the final little details on the set up, electronically specifically, and make the most of it.
PRESS CONFERENCE
Q: Nico, congratulations, I'm sure you've been waiting for this for a little while?
NR: definitely. It's a great feeling. Fantastic. It worked out well, qualifying, especially as we got it all right in the end. It was a good lap and it all came together. It's the perfect start until now. I'm really happy for the whole team. It really shows that, as a team, we're moving forward. In qualifying we're very, very strong now. In the race we're still not quite as strong and not where we want to be yet but also there, we're learning a lot and progressing fast. The thing is we can't make huge jumps in a couple of weeks, it's going to take a bit more time, but we're getting there.
Q: You said yesterday that you were struggling a little bit with the front tyres. I guess you weren't in qualifying?
NR: In qualifying, not so much, no! In qualifying it was definitely better. The temperature coming down in the end slightly helped, just helped the rear tyres a little bit. We're depending on that also a lot for tomorrow, then how the conditions are can change things a lot for us. It's difficult to know really how well we're going to go tomorrow. We'll see.
Q: You had an amazing margin over whoever was going to be second at the end. It must have been a funny situation when you were walking down the pit lane and everyone was still trying to beat you?
NR: You can say that for sure. The lap time was very, very strange. I had no idea if the track got a lot better or what was going on out there, so I was just hoping, 'come on, let that be enough, please' and it was, so it was good.
Q: It must have been a perfect lap?
NR: It was, definitely.
Q: Lewis, on the front row again, but sadly, you won't be on the front row again [this weekend]. It looked like a good lap.
LH: Yeah, it wasn't such a bad lap, but I'm pleased to say congratulations to Nico, it's fantastic to see him up there and for us to qualify on the front row, for me, is a quite a cool feeling because we were team-mates back in 2000 and good friends from way before that. We always dreamed of being here on the front row and racing in Formula One and here we are. Unfortunately, we won't be able to have that front row, but I'll just have to work my hardest to try to catch him up.
Q: What about that last lap. You aborted it. Were you just not going to be quick enough?
LH: I probably could have gone a tenth quicker but it was very close. It wasn't enough to close the gap to Nico. No one else was improving on their times so it was important to try to save the tyres.
Q: You're a two-time winner here, so what are your chances tomorrow?
LH: I have a lot of work ahead of me. Just moving forward is what I'll be aiming for and obviously to finish the race. Then we'll just see what happens from there. You know anything can happen here with the weather. These guys are going to be massively quick, so I wish them all the best but I just hope me and Jenson can make our way forward and score some valuable points.
Q: Michael, you actually won from sixth on the grid here, that was your best ever grid position here and you've just beaten that by three places. We almost had the sight of Norbert (Haug, Mercedes motor sport boss) dancing in the garage just now, he was so happy. Obviously it's a great result for the Mercedes team.MS: Absolutely. Norbert has been suffering with us for the last two and a half years. Obviously it's his little baby, to get the Mercedes car up front and to achieve this, with all the effort that Mercedes has put in, the team has put in, it's just great. It's the first front row for Silver Arrows for I don't know how many years (Monza, 1955, three cars, Fangio, Moss, Kling), yeah, very proud of this one.
Q: Was this the sort of performance you've been expecting for the last couple of races?
MS: Actually not. Looking at yesterday, I didn't think it would be enough to fight for pole position and looking at what Nico was able to do, obviously I think it's a little surprise for all of us, but nevertheless, the gap looked a little bit bigger than it finally was today and good for us, let's hope we can keep it that way. Obviously the further forward we are the better the prospects are for tomorrow.
Q: Are you quite confident with the tyres for the race tomorrow?
MS: Yeah. No, we don't have a particular problem, it's just a question of how the general speed on high fuel compares to the others, what that means, and then obviously you have tyre degradation, everybody has it, some have more, some have less but for me, I guess it will be the first proper race which I'm hopefully going to finish and I will tell more at the end!
QUESTIONS FROM THE FLOOR
Q: (Michael Schmidt – Auto, Motor und Sport) Nico, you only had one run in Q3; was it because you didn't have any tyres any more or did you save one set?
NR: It was just a decision to save another set of tyres. It was a good lap, I didn't know if it was going to be enough or not, but it was definitely a good lap and saving a set is very good for the race, so we just took the decision to go for that, because the race is where the points are, not in qualifying.
Q: (Michael Schmidt – Auto, Motor und Sport) You could have had two runs, did you save a set of tyres beforehand, then?
MS: Yup, same (as Nico).
Q: (Frederic Ferret – L'Equipe) Nico, what was your feeling when you discovered that you had pole?
NR: First of all, it was strange beforehand because I was standing there on my own and everybody else was still going round, but I couldn't do anything any more, so it was strange. And then slowly but surely, I saw the sector times and I saw that it was definitely going to be enough so fantastic, very excited.
Q: (Michael Schmidt – Auto, Motor und Sport) Nico, you said that tomorrow might be good if the temperature goes down a little bit, because it might be better for the rear tyres, but yesterday, wasn't it a problem that the low temperatures created some graining on the front?
NR: Yeah, that's true, that's why it's difficult to foresee tomorrow and our performance compared to the other top teams. We just need to wait. We're in a good position now, we've done our homework over the last couple of days, we've optimised what we have with the knowledge that we have. Of course, we're still learning a lot with the car, a lot of things are different but we will see. Difficult to say.
Q: (China Radio International – Peng Yan Yuan) Michael, you came back last year, and now you're doing well this year and we have Kimi coming back this year. So who's going to be the next former World Champion coming back to Formula One?
MS: Well, there are plenty of elder champions around so I don't know. Ask around!
Q: (Xinmin Evening News – Li Ran Ran) Nico, this year you have your first pole, do you feel pressure with Hamilton and Michael behind you?
NR: Of course. Of course I'm very proud, the first pole is great, for the whole team, it's a special moment for the whole team and the first of many moments to come, great results and everything. And it's great to share the qualifying podium here with Lewis and Michael. With Lewis, in the year 2000, we were saying how we imagined one day we were going to be one and two in F1 and now here in qualifying that's the case, so that's nice. Of course, having Michael to share the front row with is fantastic for the team, so it's good. / planetf1.com

————————————————————–
END – NEWS – SAT -QUALIFYING

————————————————————–
BEGIN PRACTICE – FRIDAY

————————————————————–
F1 2012 – New Cars & New Rules
————————————————————–
————————————————————–
Shanghai
The Shanghai International Circuit was designed as the race circuit for the new millennium. And the modern track, with its stunning architecture, has achieved its goal of becoming China's gateway to the world of Formula One racing since it debuted on the calendar in 2004.
Circuit architects Hermann Tilke and Peter Wahl on their creation: "The 5.4 kilometre racing track is shaped like the Chinese character 'shang', which stands for 'high' or 'above'. Other symbols represented in the architecture originate from Chinese history, such as the team buildings arranged like pavilions in a lake to resemble the ancient Yuyan-Garden in Shanghai. Here, nature and technology are carefully used to create harmony between the elements."
Not only is the course remarkable for its change of acceleration and deceleration within different winding turns, making high demands on the driver as well as the car, but also for its high-speed straights. These offer crucial overtaking opportunities and give an intense and exciting motorsport experience to the spectators. The main grandstand with 29,000 seats provides a spectacular view of almost 80 percent of the circuit.
————————————————————–
Formula 1 2012 – Circuit Preview – China GP
————————————————————–
F1 2012 – Pirelli – Chinese Grand Prix 3D preview (Shanghai)
————————————————————–
Michael Schumacher put his definitely legal W-duct to good use at the Shanghai circuit on Friday afternoon, edging Lewis Hamilton to the P1 slot.
Despite a protest from Lotus on Thursday, the FIA once again declared Mercedes' DRS-activated device legal giving the Brackley-based team a much-needed boost ahead of the weekend's proceedings.
And Schumacher demonstrated the worth of the device as he crossed the line with a 1:35.973 to edge Hamilton by 0.172s.
The drivers were quickly out on track for the start of FP2, looking to make up for lost time from the morning's wet session.
Within ten minutes all the drivers barring two had posted lap times with Hamilton leading the field with a 1:36.814. Nico Rosberg was second ahead of Sebastian Vettel and Schumacher.
The drivers kept plugging away, putting in the laps as they evaluated upgrades and worked on finding the perfect set-up for the Shanghai circuit.
One driver who appeared to find something was Sebastian Vettel. The Red Bull driver, using the option Pirellis, went quickest then quicker and ever quicker as he put in three purple lap times, his best being a 1:36.160.
Vettel's reign was cut short by Schumacher as the older of the two Germans put his legal W-duct wing to good use, clocking a 1:35.973 while Hamilton took second, 0.172s off the pace.
Schumacher held onto the position through to the end of the session with Hamilton second and Vettel third.
Times
01 Michael Schumacher Mercedes 1:35.973 32 laps
02 Lewis Hamilton McLaren 1:36.145 0.172 29 laps
03 Sebastian Vettel Red Bull 1:36.160 0.187 27 laps
04 Mark Webber Red Bull 1:36.433 0.460 24 laps
05 Nico Rosberg Mercedes 1:36.617 0.644 31 laps
06 Jenson Button McLaren 1:36.711 0.738 28 laps
07 Kamui Kobayashi Sauber 1:36.956 0.983 28 laps
08 Paul di Resta Force India 1:36.966 0.993 31 laps
09 Nico Hulkenberg Force India 1:37.191 1.218 31 laps
10 Fernando Alonso Ferrari 1:37.316 1.343 32 laps
11 Sergio Perez Sauber 1:37.417 1.444 22 laps
12 Daniel Ricciardo Toro Rosso 1:37.616 1.643 33 laps
13 Kimi Raikkonen Lotus 1:37.836 1.863 30 laps
14 Jean-Eric Vergne Toro Rosso 1:37.930 1.957 32 laps
15 Romain Grosjean Lotus 1:37.972 1.999 26 laps
16 Pastor Maldonado Williams 1:38.176 2.203 35 laps
17 Felipe Massa Ferrari 1:38.293 2.320 31 laps
18 Bruno Senna Williams 1:38.783 2.810 37 laps
19 Heikki Kovalainen Caterham 1:38.990 3.017 36 laps
20 Vitaly Petrov Caterham 1:39.346 3.373 20 laps
21 Timo Glock Marussia 1:39.651 3.678 15 laps
22 Pedro de la Rosa HRT 1:40.343 4.370 25 laps
23 Charles Pic Marussia 1:40.753 4.780 30 laps
24 Narain Karthikeyan HRT 1:41.125 5.152 26 laps
————————————————————–
Lewis Hamilton proved he has the pace to fight for pole position in China were it not for his pending grid penalty.
The McLaren driver set the pace in Friday's first practice at a damp Shanghai circuit, easily over a second ahead of the chasing pack.
It was a slow start to the session with many drivers opting for two or even three installation laps without setting a time.
Webber was one of the first to cross the line, posting a 1:39.558 around the 5.451 km long Shanghai circuit while Romain Grosjean took second, 1.646s off the pace.
Minutes later, though, they were in the pits along with their 22 rivals as drizzle and fog sent the drivers heading for dry ground.
"Cold" and "frustrating" were the words used by McLaren team boss Martin Whitmarsh to describe the situation.
But, a few minutes later, several drivers were back out despite the track conditions being far from ideal.
This was highlighted when Timo Glock's engineer asking him if he "needs a change of underwear" after an entertaining lap out – and almost off the track.
That, though, didn't stop others from heading out although times were eight to 12 seconds off Webber's dry lap pace.
But as the conditions improved so too did the lap times with the final five minutes seeing a furor as drivers made the most of the best track conditions.
Michael Schumacher went quickest only to be overhauled by Webber who in turn lost out to Hamilton. The McLaren driver was 0.831s on the chasing pack.
Nico Rosberg then took the P1 slot but he too lost out to Hamilton. The Brit ending the session with a 1:37.106, which put him 1.010s up Rosberg. Schumacher was third.
Times
01 Lewis Hamilton McLaren 1:37.106 7 laps
02 Nico Rosberg Mercedes 1:38.116 1.010 14 laps
03 Michael Schumacher Mercedes 1:38.316 1.210 14 laps
04 Sergio Perez Sauber 1:38.584 1.478 13 laps
05 Kamui Kobayashi Sauber 1:38.911 1.805 12 laps
06 Mark Webber Red Bull 1:38.977 1.871 15 laps
07 Sebastian Vettel Red Bull 1:39.198 2.092 12 laps
08 Jenson Button McLaren 1:39.199 2.093 6 laps
09 Daniel Ricciardo Toro Rosso 1:39.748 2.642 16 laps
10 Jean-Eric Vergne Toro Rosso 1:39.768 2.662 14 laps
11 Fernando Alonso Ferrari 1:40.056 2.950 14 laps
12 Felipe Massa Ferrari 1:40.153 3.047 14 laps
13 Valtteri Bottas Williams 1:40.298 3.192 8 laps
14 Nico Hulkenberg Force India 1:40.328 3.222 13 laps
15 Pastor Maldonado Williams 1:40.540 3.434 12 laps
16 Heikki Kovalainen Caterham 1:41.071 3.965 14 laps
17 Romain Grosjean Lotus 1:41.204 4.098 14 laps
18 Timo Glock Marussia 1:42.330 5.224 14 laps
19 Giedo van der Garde Caterham 1:42.521 5.415 11 laps
20 Jules Bianchi Force India 1:44.118 7.012 8 laps
21 Pedro de la Rosa HRT 1:44.227 7.121 10 laps
22 Charles Pic Marussia 1:44.500 7.394 15 laps
23 Narain Karthikeyan HRT 1:47.204 10.098 12 laps
24 Kimi Raikkonen Lotus 1:50.465
http://www.planetf1.com/news/3213/7668908/Prac-One
————————————————————–
Michael Schumacher has downplayed the impact on Mercedes' controversial W-duct wing on a day when the German topped the timesheets in practice.
Despite a formal protest from Lotus F1 on Thursday, Mercedes were permitted to run their DRS-activated W-duct wing at the Shanghai circuit after the FIA rejected the protest.
According to motorsport's governing body, the device, which which stalls the front and rear wings for added straight-line speed, is not driver activated and is consistent with the intent of the regulations.
"It certainly should quieten down some people who like speculation," Said Schumacher. "It is a good innovation and I think it should be honoured by everyone.
"If you have an innovation, people should simply accept that. Mercedes has done a good job on this one, although it's been overestimated, the worth of it, but it's good.
"We put it on because it gives us some time."
And that's exactly what it did around the Shanghai circuit in Friday's second practice.
Schumacher topped the timesheets with a 1:35.973, which put him 0.172s up on Lewis Hamilton while his Mercedes team-mate Nico Rosberg was P5.
"General it's been okay, a trouble-free day considering we got rain this morning," said the seven-time World Champ.
"The car handles definitely much better than we experienced the last two years here. If you have a balanced car here it makes a lot of contribution to lap time, and definitely that is the case."
The German, though, conceded that Mercedes are "not yet where we want to be in terms of pace.
"We have got a lot stronger as a team over the last two years in making the pre-analysis and getting the car right, but you know we are on a Friday, not on a Sunday afternoon."
http://www.planetf1.com/news/3213/7669417/Schumi-All-Good-But-It-Is-Only-Friday
————————————————————–
Sebastian Vettel reckons McLaren will be the team to beat this weekend in China, however, is feeling a lot happier with his RB8 after Friday's practice.
Unhappy with the handling of his Red Bull racer at the Malaysian Grand Prix, Vettel opted to make a change ahead of this weekend's race in Shanghai, switching to the exhaust design that was used during pre-season testing.
It was clear by the timesheets that the reigning World Champion was feeling a lot more comfortable with the car as he was once again fighting at the front.
Vettel finished Friday's second practice in third place, 0.187s behind Michael Schumacher and just 0.015s adrift of Lewis Hamilton, who he reckons is looking good.
"It is tight between the cars. I haven't seen everything, but I think overall we can be quite happy," Vettel said.
"We tried a lot of things today and now we need to go through everything and see what the best set-up is.
"If you look at the car, you can see a big difference compared to the set-up we used for Malaysia, but driving it's hard to say, as I don't have a comparison to this track.
"It's cooler here than at the last two races; I felt more comfortable, but we'll see.
"It's tricky to say if we look competitive. McLaren look good in all conditions."
http://www.planetf1.com/driver/18227/7669457/Vettel-Overall-we-can-be-quite-happy
————————————————————–
Fernando Alonso has warned against expecting a miracle in China, saying Ferrari will struggle to make it into Q3 on Saturday.
Last time out in Malaysia, Ferrari claimed a surprise victory as the wet conditions covered the F2012's weaknesses and allowed Alonso to race to the victory.
The 25 points have put the Spaniard at the top of the Drivers' Championship, five points ahead of Lewis Hamilton and a further five in front of Jenson Button.
However, Alonso has warned against expecting a repeat performance at this weekend's Chinese Grand Prix.
"Nothing has changed since Malaysia and so I expect a tough weekend," he said.
"There will be no big surprises, as although the car has some small improvements, there is nothing big coming for this race.
"I expect this is the same situation with the other teams, which is why I feel the general picture will be the same as at the last two races.
"This means we will struggle to get through into Q3 on Saturday and then on Sunday, we will be hoping to get a good start and then do a good job of tyre management."
He added: "We can also hope for a little bit of luck, because this is a factor we often forget but it is there, as we saw in Australia and then again in Malaysia where I was lucky to avoid a first corner accident.
"You need a big package to win and luck is part of it, so let's hope it stays with us for this weekend."
Pressed as to whether a wet race on Sunday would help his cause, Alonso said: "Sure, if it was wet that would help, but even then it can go both ways, because you can either find yourself on the right tyre at the right moment or the wrong tyre at the wrong moment."
http://www.planetf1.com/driver/18227/7667416/Alonso-expecting-a-tough-Chinese-GP
————————————————————–
Ferrari says Chinese Grand Prix upgrades a step forward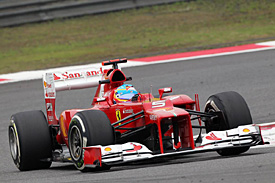 Ferrari technical director Pat Fry says the upgrades the team has brought to Shanghai are a step forward – but that this will not be apparent in the Chinese Grand Prix as the circuit characteristics do not suit the F2012.
Although Fernando Alonso leads the world championship thanks to his surprise Malaysian GP victory, Ferrari has struggled for pace in dry conditions all year.
It accelerated its upgrade programme to fit new parts for China, but Fry warned that the team was still unlikely to qualify above the lower part of the top 10.
"We have brought some updates here for the F2012 which should provide an improvement in terms of performance, compared to the first two races," he said.
"The first evaluation that we can make after these three hours of free practice is a positive one, but clearly we have hours of work ahead of us this afternoon and tonight to complete an in-depth analysis. On the other hand, we cannot ignore the fact that the characteristics of this track seem to be less suited to our car than Malaysia.
"Taking these two factors into consideration, I am not expecting anything new in terms of our positions on the grid. At the moment, our realistic expectation is somewhere between seventh and 12th place, as indeed we were in Sepang.
"However, we have to bear in mind that it's all very close, so it only takes the slightest thing – a mistake, a less than perfect lap – to make for a significant change of position, either upward or downward."
Fry called for patience from Ferrari's fans as it tries to pull itself out of its current troubles.
"To those who ask me when we will see a Ferrari fighting for pole position, I can only reply there is no magic button we can press to improve the situation in one go," he said.
"We need to push in many areas, starting with the aerodynamics which is still the decisive factor in today's Formula 1, while not forgetting our work methods, in order to get the results in the short term, but especially in the long term."
Alonso and Felipe Massa were 10th and 17th in practice on Friday, with the latter saying he would have been closer to his team-mate had he not been disrupted by Marussia driver Timo Glock's crash.
"When I was on my first run on the soft tyres, Glock went off the track at Turn 1 and I was forced to pit again," said Massa. "This meant I was unable to get the most out of this set of tyres and significantly improve my time.
"I am sure that it would have been much faster than the one posted on the classification. That bothers me a bit because I did not manage to use the soft tyres in the way I should have done."
http://www.autosport.com/news/report.php/id/98769
————————————————————–
Hamilton upbeat about McLaren's long-run pace after Chinese GP practice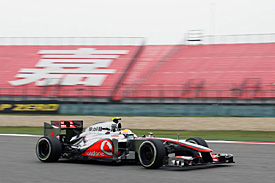 Lewis Hamilton is upbeat about the long-run pace of his McLaren, which he hopes will make him a contender for victory in China despite a five-place grid penalty.
The McLaren driver discovered yesterday that he would be hit with the grid drop after the team discovered a cracked component in the gearbox, forcing them to change it before Saturday morning.
But Hamilton, who ended morning practice fastest and was second in the afternoon session, is confident that his race pace is strong enough to be a factor.
"The longer runs look competitive," said Hamilton. "It's the race I'm focusing on a little bit more than qualifying compared to the other races and we are improving consistency and the way we look after the tyres.
"The car is looking very good. We have a few improvements to make to the balance but hopefully we will be there or thereabouts.
"We had a good couple of sessions today so I will try and improve the balance a bit and also see if I can try and find some time elsewhere on the track."
Despite focusing on the race, Hamilton did not discount having a run at a third consecutive pole position tomorrow even though he knows that he will end up being relegated to sixth place.
"The car feels quite good but the others seem like they have made a good step as well like the Red Bulls and the Mercedes," said Hamilton. "We will keep on pushing and I hope we can be as high as possible especially when we have a bit of a penalty to take."
Jenson Button was less positive than his McLaren team-mate after a difficult day.
He struggled with tyre temperatures and car balance and admitted that he needs to make some progress overnight.
"It wasn't a great day but there's still a lot of information to look at [to understand] the reason why we couldn't get a good balance today," said the 2009 world champion.
"The car is obviously working, we've just got to get it in the right area to get the tyres working, which Lewis is doing very well. The pace is in the car, we've just got to extract it."
http://www.autosport.com/news/report.php/id/98771
————————————————————–
The decision comes after speculation about the event in the Gulf state, in which civil unrest has continued since protests in February 2011.
The FIA has been under pressure to call off the race amid security concerns.
But a statement said it was "satisfied that all the proper security measures are in place for the running of a Formula 1 world championship event".
Protesters in Bahrain have called for the race to be cancelled. It is closely tied with the ruling royal family, who are being pressured to improve human rights and make reforms by the majority Shia population, who accuse the minority ruling Sunnis of discrimination.
Pressure has built in recent weeks as riots have continued in Shia neighbourhoods.
The FIA statement pointed to a "fact-finding mission" undertaken by the organisation's president, Jean Todt, in December last year at which he is said to have met with "a large number of decision-makers and opinion formers" from both sides of the debate.
It added: "All expressed their wish for the grand prix to go ahead in 2012 and since then the FIA has kept in close touch with all these stakeholders.
"Away from the public eye, the FIA has received regular security briefings from the most senior diplomatic officials based in the Kingdom, as well as from other independent experts."
The statement emphasised that the FIA's responsibility was to ensure "the safety of the public, officials, drivers and teams is secured at all times during the event."
F1 boss Bernie Ecclestone said he was "200%" certain the race would go ahead, but added there remained scope for it to be called off.
"Everybody's happy," he said. "We haven't got any problems. It's a problem being discussed by the media. They don't have any idea what's going on. That's the problem.
"This race is on the calendar, and has been on the calendar for quite a long time, and we will be there. All the teams are happy to be there.
"The national sporting authority will keep us informed as to what is happening. I know people who live there and it's all very quiet and peaceful.
"I suppose the right thing to do is to stop speculating and wait and see, then we will deal with the matter when it arises."
Senior F1 figures have refused publicly to get drawn into the debate, but privately many question the wisdom of sending several thousand people working on a race into a potentially volatile and unpredictable situation.
On Thursday, Red Bull driver Mark Webber was the only leading figure to speak extensively on the subject.
Sheikh Abdul-Aziz bin Mubarak, a member of the Bahrain Royal family, told BBC Radio 5 live Breakfast the issue should just be about sport.
"Sport and music do not interfere with religion or politics," he said. "I could find fault in any of the countries that host Formula One. Security arrangements are going to be low-key and discreet. There won't be a lock-down
"95% of areas around Bahrain are safe and welcoming. There are pockets of violence, but these are controlled in a better way than last year. We've made great strides."
But former cabinet minister Peter Hain told BBC Radio 5 live it was a "serious mistake" to hold the race. "This may not be the last on it," he said. "I don't think it's acceptable for the FIA to say that security concerns have been satisfied if they are at the expense of human rights activists.
"Sport is not on a different planet to politics – the two do mix."
Bahrain International Circuit chairman Zayed Al Zayani has insisted the Middle East island state was ready to host the race and criticised "scaremongering tactics" saying they helped create misconceptions about the situation in Bahrain. / BBC

————————————————————–
Red Bull principal Christian Horner says his team will have extra security for the Bahrain Grand Prix, which takes place next week.
Civil unrest in Bahrain and threats to target the race by anti-government protesters have increased concerns ahead of the fourth race of the season.
On Friday, Formula 1's governing body, the FIA, confirmed the race will go ahead on 22 April.
"We take the security of all our employees very carefully," said Horner.
"Inevitably, as with other races, sometimes extra precautions are taken.
"We'll do our best to ensure that all our guys and girls are in a secure environment."
Protesters in Bahrain have called for the race to be cancelled. The ruling royal family is being pressured to improve human rights and make reforms by the majority Shia population, who accuse the minority ruling Sunnis of discrimination.
Pressure has built in recent weeks as riots have continued in Shia neighbourhoods.
An explosion, apparently caused by a gas canister, damaged two cars in Manama on Thursday, while seven policemen were wounded by a homemade bomb outside the capital on Monday.
However, Formula 1 teams are already used to extra security at some races, notably in Brazil, where armed robbery away from the Sao Paulo racetrack is a concern.
Last year's inaugural Indian Grand Prix in Delhi also saw special measures because of fears of terror attacks.
Horner added: "There are other races that we go to that have risks associated with them and it is down to each team how you address that. So next weekend will be no different."
Lotus team principal Eric Boullier said his team were happy to go to Bahrain. "The decision is done and the race is on the calendar. We will just make sure that safety is respected for all our people, and we can work in normal conditions.
"We believe it will be a normal weekend. We're happy to go there."
http://www.bbc.co.uk/sport/0/formula1/17699428
————————————————————–
Lotus's protest against a controversial rear wing design on the Mercedes car has been rejected by race stewards.
Lotus argued the device, which combines the DRS overtaking aid with the front wing, broke the rules by being a driver-operated aerodynamic device.
The Enstone-based team will not appeal against the decision and rivals must now decide whether to copy the design.
Mercedes team boss Ross Brawn says the device does not give as much of an advantage as some rivals had claimed.
Brawn said: "Obviously there's benefits in the system, but Lotus were quoting they have a 0.2secs benefit (from new parts) coming here. Well, I can promise you our system is definitely not 0.2secs, particularly in the race.
"You get to use it whenever you overtake. So the amount of effort and time that's gone into it seems disproportionate."
The system can only be used when the DRS is in operation.
Use of the DRS is free in practice and qualifying but in the race it can only be deployed when a driver is in designated zones on the track and if he is within a second of the car in front.
Mercedes have connected up the DRS so that the system 'stalls' both wings rather than just the back one, giving an extra reduction in drag.
The team have cut holes onto the inside of the vertical endplates of the rear wing which are revealed when the driver pushes a button to operate the DRS, which lifts the flap on the rear wing.
The holes in the Mercedes rear-wing endplates connect up through channels inside the car to slot gaps on the underside of the front wing, which sucks air from the rear wing, reducing the front wing's effectiveness.
The system has a number of benefits, including increased straight-line speed and better stability through certain fast corners and – some engineers say – a reduced front ride height, which aids aerodynamics.
Lotus argued – in a view shared by the majority of the teams – that the device breaks articles 3.15 and 3.18 of the technical regulations.
Article 3.15 prohibits driver movement altering the aerodynamic characteristics of the car but excludes the operation of what it calls the parts detailed in article 3.18 – which defines the DRS.
As article 3.18 mentions only the parts of the rear wing, which moves to reduce drag when the driver presses a button in the cockpit, Lotus believe the Mercedes system is illegal.
But the stewards saw it differently, pointing out "the sole purpose of the 'DRS (or the 'system' as referred to in the regulations) as stated in article 3.18.3, is to improve overtaking. The Mercedes design is completely consistent with this objective."
Brawn said last week that the reason rivals were so exercised about the system was that it was difficult to fit on to a car that had not been designed with it in mind.
"It's a very simple, cheap system, but not so easy to implement if you haven't integrated it into your car," said Brawn.
"This is at the heart of some of the frustration of some of our opponents.
"People talk about the huge cost but there is no huge cost. There's a couple of carbon pipes running down the car.
"The man in the street would tell you they are a few thousand pounds, they're not millions of pounds.
"But the benefit we've gained is because we've thought about it and designed it into the car and that's not so easy for the people who haven't got it.
"It's one of the few things in F1 that is quite innovative without a cost element.
"If someone could put it on their car easily, I promise you we wouldn't be having these discussions. But they can't do it very easily which is why they're getting so vexed about it."
http://www.bbc.co.uk/sport/0/formula1/17688784
————————————————————–
Michael Schumacher set the pace in Shanghai on Friday, beating Lewis Hamilton while Sebastian Vettel was third…
Mercedes:
Michael Schumacher: "It was a trouble-free day, and I am quite happy with how our car is handling so far here. The balance of the car was reasonably good, and obviously a balanced car contributes a lot to lap time. As a team, we are a lot stronger in certain areas this season, and we have a much better base to work from, although we are not quite where we want to be with this car yet but I am confident we will get there. We will now have to look deeper into the data in order to find out where we really are here, but I am looking forward to tomorrow's qualifying."
Nico Rosberg: "It's important for us at the moment that we try a lot of different evaluations during practice to improve our race pace. So I think it was a decent start to the race weekend today as we learned quite a few interesting things. The conditions were so changeable today that it was difficult to take the right decisions in terms of set-up work, and we struggled a little with the front tyres. That may have been caused by the cold temperatures today, and can change very quickly between now and the race, so I am not too concerned."
McLaren:
Lewis Hamilton: "It's been a great day – it stayed dry in the afternoon so we successfully got through our run programme. We're still working away to improve the set-up, but the new bits on the car seem to be working: the guys back at the factory have done a great job.
"We look competitive – and I've been particularly focusing on the longer runs for this weekend. We still need to make a few improvements but our car looks good.
"I'll be changing the gearbox on my car before P3. It's going to be a close qualifying session tomorrow – it'll be a good battle and hopefully we can start as high up the grid as possible because I think we'll still be in the race and among the leading group. I love the challenge of coming through and gaining positions."
Jenson Button: "It's been a little bit of a difficult day for me. I was trying to find a good set-up but the cold weather made it difficult to understand the car because the tyres weren't working perfectly.
"Tomorrow should be a bit warmer than today – we don't quite understand the tyre temperatures and can't get them quite in the right area. And if we make a set-up change and the tyre temp changes by five or 10 degrees, then that change goes out the window.
"That's something for us to sort out, but we've got a lot of useful information from the low- and high-fuel runs. It's been a tricky day but there's a lot of good information to go through – we'll find a better direction overnight."
Red Bull:
Sebastian Vettel: "It is tight between the cars. I haven't seen everything, but I think overall we can be quite happy. We tried a lot of things today and now we need to go through everything and see what the best set-up is. If you look at the car, you can see a big difference compared to the set-up we used for Malaysia, but driving it's hard to say, as I don't have a comparison to this track. It's cooler here than at the last two races; I felt more comfortable, but we'll see. It's tricky to say if we look competitive. McLaren look good in all conditions."
Mark Webber: "The sessions were mixed in terms of weather, but we were able to get some good information. We managed to run slick tyres this morning between showers and this afternoon we did a few long and short runs, so we're learning a lot quickly, which is important on a Friday. We've got a lot of stuff to go through tonight and will continue to find out more tomorrow and on Sunday. We've come from a track that's 50˚C to a cooler circuit, so we have more grip here which helps, but I think overall that we're moving in the right direction."
Sauber:
Kamui Kobayashi: "We had a few minor issues to fix, but overall today's practice sessions went smoothly. Sometimes the visibility was a bit poor and this didn't help to predict where the track was and wasn't slippery. My car definitely felt better balanced in the afternoon's practice session than it did in the morning, and I believe we look okay here on this track. Of course there is still room for improvement in regard to the set-up. When we make our decisions for tomorrow we will not focus too much on today's track conditions, as we expect the temperatures to be a bit higher then."
Sergio Perez: "The balance of my car had actually been better in the first free practice session compared to the afternoon. I wasn't too happy in the second free practice. I had problems with the brakes, which didn't work the way they should, and I lost too much front tyre temperature on the back straight. It was too easy to lock the front. We need to improve the car's overall balance for qualifying. We have a bit of homework now, but we have gathered quite a good amount of data."
http://www.planetf1.com/driver/18227/7669224/Fri-Merc-McLaren-Red-Bull-Sauber
————————————————————–
It was not a great Friday for Williams, who joined Caterham, Marussia and HRT at the bottom of the Chinese timesheets…
Williams:
Pastor Maldonado: "It was a bit difficult this morning with the track conditions. We need to improve our qualifying set-up and I will work through that with my engineers this evening. We will make some changes overnight but the car is looking stronger for the race. "
Bruno Senna: "It was a productive P2 for us. I don't know the circuit particularly well so it is a steep learning curve, but I'm learning all the time and we'll have some further improvements tomorrow."
Caterham:
Heikki Kovalainen: "A bit of a tricky day and one where I'm not sure how much we've learnt. The conditions this morning meant we didn't learn too much, even though it was good to get some mileage on the inters, and this afternoon I had a few issues trying to find decent grip but we can work on that tonight. I'm pretty certain we can find quite a lot more from the whole package for tomorrow so let's see where we find ourselves when it gets serious on Saturday afternoon."
Vitaly Petrov: "I had a slightly interrupted session this afternoon with maybe one run lost to an alteration to the front suspension early in the session, but despite that I'm reasonably pleased with how the rest of FP2 went. Tyre degradation doesn't look too bad on either compound and I think we can find more time with some changes to the mechanical grip, so with some hard work tonight I think we can be ok for tomorrow and the race on Sunday."
Marussia:
Timo Glock: Still to be released
Charles Pic: Still to be released
HRT:
Pedro de la Rosa: "The day started with a strange morning session as a result of the weather conditions, but it was the same for everyone. However, the afternoon session went well where we were able to try out various set-up options and adjustments that enabled us to improve the balance of the car both with medium and soft tyres. We were able to complete the scheduled programme but tomorrow we should progress a bit. We definitely felt an improvement with respect to the Malaysian Grand Prix and the team is also working better together, but we still have a lot of work to do."
Narain Karthikeyan: "The weather wasn't favourable for us in free practice one and it meant that we didn't get any proper running done. I had a few problems in the morning session but the afternoon, where we tried a few different adjustments, was fine. We have a few things to look at tomorrow, especially on the braking side, but apart from that everything went well. We have to improve and we will do that. Tomorrow's practice three will be more representative of where we are."
http://www.planetf1.com/driver/18227/7669242/Fri-Williams-Caterham-Marussia-HRT
————————————————————–
There were top ten times in Friday's Chinese GP practice for Paul di Resta, Nico Hulkenberg and Fernando Alonso…
Force India:
Paul di Resta: "It was a solid afternoon session and a positive start to our race weekend. The baseline set-up was pretty good to begin with and we just worked away at fine-tuning that during the session. As for the tyres, I would say the medium and softs are quite similar and we managed to get good data during the long runs on both compounds."
Nico Hulkenberg: "A very short FP1 with the mixed weather, but the running I managed was still useful because we did a few laps on the medium tyre towards the end of the morning. Then we had a very smooth FP2 in the dry conditions, which allowed us to complete all our objectives with long runs and tyre evaluation. Already I have a positive feeling in the car: it feels good to drive and I'm happy with the balance."
Ferrari:
Fernando Alonso: "It was a normal Friday, based mainly on evaluating new aerodynamic parts in FP1 and on the usual tyre tests in FP2. As always, we tried to work out which would be the fastest compound to use in qualifying and which the most consistent over a long run. Felipe and I split the workload on track and now, this afternoon it is down to the engineers to analyse the data and take the best decisions for tomorrow, both in terms of the updates we have brought for this race and from what we have learned regarding the tyres. It rained in the morning and this slowed the programme a bit, but all the same we managed to complete it in the second session. We definitely lack a bit of performance: we will try and find it for tomorrow, as well as trying to sort out the balance of the car, especially in terms of its grip. There's a lot to do if we want to have a good qualifying."
Felipe Massa: "You definitely couldn't define today as being fantastic. This morning the track was a bit wet and that meant we weren't able to run as much as we would have liked, while in the afternoon, the track dried and we managed to get through our usual Friday programme. When I was on my first run on the Soft tyres, Glock went off the track at Turn 1 and I was forced to pit again: this meant I was unable to get the most out of this set of tyres and significantly improve my time. I am sure that it would have been much faster than the one posted on the classification: that bothers me a bit because I did not manage to use the soft tyres in the way I should have done. At the end of the session, we ran with a lot of fuel on board to improve the balance of the car."
Toro Rosso:
Daniel Ricciardo: "FP1 was partly wasted because of the weather, the damp track meaning we only got a handful of clean laps. But the afternoon was better and I was happy with the balance of the car on the Prime, although I did not feel we gained that much in performance terms when switching to the Option. So this is one area we have to look into this evening; maybe the track conditions didn't suit the Option so well. Generally, we are in a similar position, compared to others, as in the first two races, although I feel we are looking more competitive than in Malaysia. I am happier with the car here and hopefully that will mean we can fight for a top ten place."
Jean-Eric Vergne: "Another new circuit for me. I enjoyed it and I think I learned it quite quickly, although the few drops of rain this morning limited the number of laps I could do. We managed to do a lot more this afternoon which was positive. Daniel and I ran different set-ups and I think splitting the programme between the two cars worked well in that the engineers now have plenty of data to study tonight. I am not entirely happy with the feeling I had from the car, but I am quite confident that we can have a good car tomorrow and do well."
Lotus F1:
Kimi Raikkonen: "It's not often that you have a perfect car on Friday and there are certain things we have to improve. To be honest, it doesn't matter if you are the slowest car on Friday if you are fast for the rest of the weekend. We now just need to look at the information and change the usual things on the car to improve it. We're aiming for better results than what we've achieved from the last two weekends. For sure, we have some work to do on the car. We tried some different things with the set-up today so we have some information to look at, and we know there are certain areas where we have to improve."
Romain Grosjean: "We had strange conditions this morning and a little bit of a difficult session this afternoon to be honest. We're not where we would expect to be, partly due to the low temperature which we didn't expect. We'll analyse what's changed coming from two warm weekends to here where it's pretty cold and has changed the game. On a positive note I'm comfortable with the way the car feels; we have a few set-up issues but it's not as if the car is nowhere. I'm sure we'll improve tomorrow, and of course if the weather changes again then everything will change. It's never easy to learn a new track in varying conditions, but it was good to get out there and find my way around, and also to get a proper impression of the intermediate tyres which is a bonus for me. The track itself is quite nice to drive, and I was pleased to be reasonably close to Kimi who obviously has a lot more experience around here. I'll be working late with the engineers tonight."
http://www.planetf1.com/driver/18227/7669232/Fri-FIndia-Ferrari-STR-Lotus
————————————————————–