Posted in G-News on 10. Apr, 2012


————————————————————–
Mac virus: What you need to know, how to remove it
(Credit: Apple)
(CBS News) Apple Macintosh users have become vulnerable to the Flashback Trojan malware.
An estimated 600,000 Mac users have been infected. We've rounded up some of the best ways to check for the Trojan horse and get rid of it.
What is the Flashback Trojan?
First thing to note is that Flashback is not a technically a virus, it's a Trojan horse. Both are malicious software, but the main difference is that a Trojan horse cannot infect other computers. Trojan horses typically seem like helpful software, but once installed they make your computer vulnerable to data theft or keystroke logging, among other things.
The Flashback Trojan, also called BackDoor.Flashback.39, was initially discovered as a fake Adobe Flash Player plug-in installer in September 2011.
How to check your Mac for the Flashback Trojan
Dr. Web, who originally reported the number of Mac users infected with the virus, has an online tool to check if you have BackDoor.Flashback.39. There's also a program called FlashbackChecker available at GitHub. If you use the anti-virus program VirusBarrier, it should be able to check and remove the Trojan horse.
How to get rid of the Flashback Trojan
There are a few different ways to get rid of the Flashback Trojan. CNET has a step-by-step guide to remove the malicious software. There's also a removal guide posted by the Finnish security company F-Secure.
CNET has full coverage of the Flashback Trojan virus.
credit & thanks : http://www.cbsnews.com/8301-501465_162-57411237-501465/mac-virus-what-you-need-to-know-how-to-remove-it/
————————————————————–
Computer monitor uses sensor to promote better posture
The monitor works with software made by DigitalOptics Corporation

The sensor determines whether you're sitting at an optimal distance from the monitor

The device is made out of 65% recycled plastics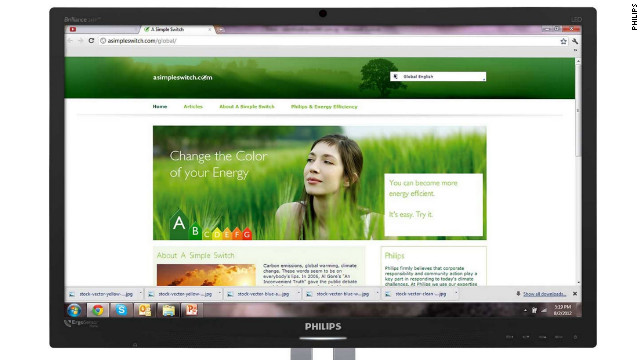 (Wired) — High-tech sensors are everywhere. They alert us to spoiled food. They monitor our stress levels. And they're blowing up in the health and fitness space, too, helping us track our key sleep and activity metrics.
And now we have the Philips ErgoSensor Monitor, a desktop display that keeps an eye on one's posture.
The 24-inch LCD monitor uses a built-in CMOS sensor to determine your distance from the screen and your neck angle while sitting. The monitor works with software made by DigitalOptics Corporation, and, like a worried mother, will remind you to straighten your back, keep your distance from the display, and take breaks from sitting at the computer.
According to Philips, the sensor measures your inter-pupillary distance — the distance two pupils — to determine whether you're sitting at an optimal distance from the monitor.
The system can also sense if your neck is inclined at a poor ergonomic angle, and will give you corrective feedback showing you the ideal angle position. And if you've been sitting for too long, the built-in software will remind you to get up to take a break.
We haven't seen a Philips ErgoSensor monitor in action yet, but if it does what it says, it could be valuable for consumers wanting a more ergonomic workstation.
"It's an interesting concept and it certainly provides a potential value for timing and alerting people to take a break," David Rempel, Director of the Ergonomics Program at UC Berkeley and Professor of Medicine at UCSF, told Wired. "It may have value in terms of posture depending on how it measures neck angle and distance from the screen."
The design of the monitor itself is also ergonomically friendly. Philips dubs the base "The SmartErgoBase" as it can be lowered to almost desk level, and allows users to tilt, rotate, swivel, and make angle adjustments to the screen.
This is an important feature to include in the monitor, Rempel says: "We know that if a monitor is set too high or too low, and a person has to work with their head in extension, it can lead to neck pain." Rempel advises people to set their monitors so that it is at a 10- to 20-degree angle below the horizon of their eyes.
The eco-concsious can rest easy with this monitor, too. When you walk away from the screen, it will automatically detect that you're no longer present and power itself down.
The device is also made out of 65% recycled plastics, and comes with a 0-watt hard switch that lets you cut power completely off from the monitor for zero power consumption.
The monitor is available in the EU for 285 euros (about $375). The company has not yet released a launch date or price for the United States.
See the original article on WIRED
Credit & Thanks :  http://edition.cnn.com/2012/04/09/tech/innovation/philips-monitor-better-posture/index.html
————————————————————–
Will Facebook ruin Instagram?
Facebook buys Instagram, the mobile photo-sharing app, for $1 billion

Digital pundits worry Instagram could lose its cool

The photo-sharing app is popular with tech early adopters

It lets users apply color filters to photos and share them on multiple networks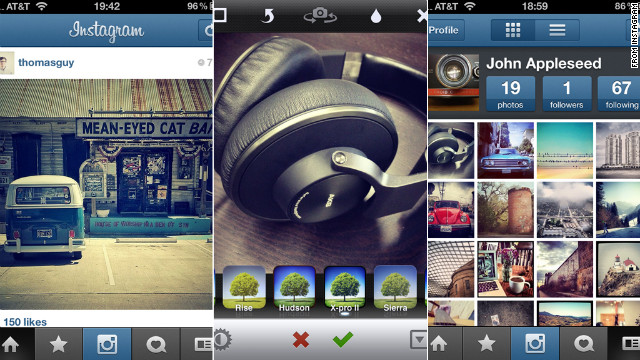 (CNN) – Facebook's purchase on Monday of the photo-sharing app Instagram had the Internet asking one question:
Will the Goliath of social networking make Instagram so uncool or so Facebook-y that it dies off entirely?
Immediately after the reported $1 billion purchase was announced, some digi-pundits were already rushing to say just that — with plenty offering advice on how Instagram users can delete their accounts and all of the photos they've uploaded with the app.
Some cited Facebook-related privacy concerns.
That line of thinking goes like this: Instagram, a mobile network where people share filter-altered, hipster-y photos with friends, feels small and intimate. By contrast, Facebook feels too big and tries harder to profit off of the data its users submit to the site.
Here are a couple tweets to that effect:
@thisbrokenwheel: "Well, I guess I'll be spending the evening deleting ALL of my posted photos from @Instagram. Hate Facebook's creepy privacy issues."
@sinabhfuil: "Must delete Instagram from my phone; don't want any sneaking doorways into Facebook privacy grabs"
As CNNMoney writes, Instagram hadn't monetized its app: "Instagram is a free app and doesn't charge for any of its services. The company's founders insisted that would come in time, once they'd built a sizeable user base."
The tech blog TheNextWeb posted instructions for users to delete their entire Instagram accounts, just so Facebook can't get its hands on any data about their relationships on Instagram or on the photos they've submitted through the app.
"There is no guarantee that Facebook will be using the data gathered by Instagram but we wouldn't bet against it in a million years," that blog writes.
Others think the app will become far less cool under Facebook's care:
@TheCBurns: "What was once great is now crap."
"A lot of users will stop using Instagram," predicted CNN iReporter Aline Alencar of Rio de Janeiro, Brazil, who posted a photo protesting the Facebook takeover.
And there was quite a bit of non-analytical digital freakout happening:
"Nooooooooooooooo!" @_VickiV wrote.
Another Twitter user said the app won't die, but it will wane in popularity over time:
@jameshritz: "For me, I won't ever delete or quit, it will just be a process of gradual abandonment (probably take a few months) …"
Still others are waiting for more details. In a posting on his Facebook page, CEO Mark Zuckerberg said Facebook will let Instagram operate as an "independent" entity — albeit one that is owned by his social networking company.
Instagram's 30 million-plus users still will be able to post photos to various online social networks, he said. That feature is one hallmark of Instagram, and another reason it became so popular, particularly in tech early adopter circles. With a single click, users can share photos on Twitter, Facebook, Flickr, Foursquare, Posterous and Tumblr.
"We think the fact that Instagram is connected to other services beyond Facebook is an important part of the experience," Zuckerberg wrote on his Facebook page. "We plan on keeping features like the ability to post to other social networks, the ability to not share your Instagrams on Facebook if you want, and the ability to have followers and follow people separately from your friends on Facebook.
"These and many other features are important parts of the Instagram experience and we understand that. We will try to learn from Instagram's experience to build similar features into our other products. At the same time, we will try to help Instagram continue to grow by using Facebook's strong engineering team and infrastructure."
Color filters in the app also make anyone's mobile-phone photos look instantly more professional and vintage.
In comments on Zuckerberg's post, plenty of Facebook users appeared to be thrilled about the integration.
"This is damn interesting!! BIG NEWS!," one user wrote.
"Woah…so cool! Great news for Instagramers + Facebookers
" another said.
Here's perhaps the most compelling comment on that post, as it hints at the increased popularity Instagram could see as it joins up with a network that is expected to hit 1 billion people this year:
"Now I don't have to explain what Instagram is to my Mom. I can just say 'It's Facebook!'" one Facebook user wrote.
Credit & Thanks :  http://edition.cnn.com/2012/04/09/tech/mobile/facebook-kill-instagram/index.html
————————————————————–
Instagram for Android review
The iPhone's most popular camera-sharing app has finally come to Android – and it will make you look like the photographer you wish you were, says Matt Warman / telegraph

Few apps have created the buzz of Instagram – this set of image-enhancing filters has defined mobile photography for a generation of iPhone users. Finally it has come to Android, much to the delight of 430,000 people who had signed up to a waiting list.
In essence, Instagram makes every photo look like it was taken somewhere around 1978, and (initially at least) replaced the deficiencies of the iPhone's mobile camera with a kind of studied hipster cool. Since then, however, the iPhone's camera has improved dramatically, so now Instagram is able to take good pictures and make them look better.
The Android version is largely the same as the Apple equivalent, lacking only the excellent tilt-shift function that lets iOS users alter the depth of field of a picture. Given that this is the single most substantial picture alteration tool, that's a pity. As is the unfortunate fact that not all Android phone's cameras are actually supported yet, including the one on the superb HTC One X. While Android users can't see their filters being applied live as they can in the iOS version, there are more sharing options. Neither of these directly affects that quality of your pictures, however – that's down to the quality of your phone's camera.
Indeed, Instagram is at its strongest when it's making moderately interesting shots of the mundane appear slightly arty. It's no substitute for great photography, but it can make everyone look like a decent photographer. So that image of a coffee cup in a run-down café suddenly looks like a commentary on urban decay, when previously it was a picture you needn't have bothered taking.
Key to Instagram's success has been that it's also a social network, with a news feed and followers for users. That sense of community promotes an engagement with the app as much as it does with photography in general. Hitting the 'popular' icon is a sure-fire way to instantly see a range of charming, fun pictures and sometimes poignant images too, and sharing your own photos can be rewarding.
And indeed it's the lack of community that has held back the popularity of other, rival photo apps – plenty of others on Android tried to fill the void left by Instagram's absence, but none has succeeded. Now, Android users can meet the 30million other Instagram users.
Credit & Thanks :  http://www.telegraph.co.uk/technology/mobile-app-reviews/9185757/Instagram-for-Android-review.html
————————————————————–
Toca Boca: children's apps that unlock creativity
Parents and schools underestimate the importance of imagination and creativity. Apps can help to fix that, says Emil Ovemar of 'digital toy' company Toca Boca.
Toca Boca doesn't make apps, it makes "digital toys", says Emil Ovemar, one of the producers at the Swedish company behind such titles as Robot Lab, Hair Salon and Toca House.
Whatever you want to call them, Toca Boca produces things that will enchant and enthrall young children. Hair Salon allows you to pick a visitor and then cut, style, wash or blow dry their hair. Children learn to read the reactions on the faces of their cartoon-character customers and to stick with a task.
"In the beginning we thought the characters should ask for a certain haircut," says Ovemar. "We came to the conclusion that we should just give children the tools to create whatever they want instead of giving them a specific goal. By giving them the tools and nudging them we awakened their own desire to be creative instead of setting goals and awakening possible frustration with their skills. This is the difference between games and toys."
Toca House lets children join in with a range of household chores, such as putting away groceries or cleaning the floor. Robot Lab is a mix-and-match robot builder; create your robot and then fly it through a maze, collecting stars as you go.
The latter is probably the least open-ended of Toca Boca's games but it still offers plenty of opportunity for exploration and the learning-by-doing approach that the company typically takes.
Mr Ovemar says: "The most important goals for us are stimulating childrens imagination and desire to be creative. The importance of being able to use your imagination and creativity is something I think parents and schools underestimate. We believe playing is the best way to learn about the world and life.
"We also believe that playing together is a beautiful and important part of life so therefore we try to design products so that even parents find interesting."
Of course, parents often worry that their children are spending too much time in front of screens, whether it's television, computers, tablets, smartphones or games consoles.
"I don't think the term screen time is relevant any more. It's not about the screen, it's about what you do with it. Watching video, playing videogames, reading a digital book or playing with a digital toy is not the same thing," says Mr Ovemars.
He adds: "Of course children should not just play with screens but there are positive things that the iPad for example comes with. Try to find a balance but always show interest in the things your child is passionate about is my best advice. If you try digital products that are more like toys instead of games you might find that screen time can be something positive."
Credit & Thanks : http://www.telegraph.co.uk/technology/apple/9189087/Toca-Boca-childrens-apps-that-unlock-creativity.html
————————————————————–