Posted in G-News on 18. Jun, 2012

IPhone 5 Concept Video Is The Coolest Thing You'll See Today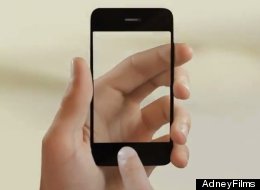 Dakota Adney recently released this amazing Apple iPhone 5 concept video.
We've seen a lot of iPhone 5 concept designs, but this one takes the cake.
Created by 17-year-old Dakota Adney, the mock-Apple commercial shows a realization of how the iPhone 5 could look with a transparent screen and virtually projected keyboard.
In the video above, Adney shows the viewer various applications from Twitter to Instagram To write a text message, the iPhone 5 concept user sets down the device flat on the table and begins typing on a virtual keyboard created by a laser projector on the lower left side of the device.
But what may be most impressive about this fake Apple commercial is its creator. Adney is a 17-year-old Oklahoma high school student with some pretty advanced production skills.
This iPhone 5 concept is not his first faux Apple creation. Under his production name, Adney Films, Adney also created a similar iPad 3 concept video last year, and more recently debuted a clever MacBook Air promo. His iPhone 5 design is similar to the iPad 3 with its translucent screen and slim look.
—————————————————————
Samsung's latest innovation in smartphones: stickers!

(but actually they're pretty clever)
Smartphones are becoming the standard mobile phone now – and they pack more and more technology in them as the months go by.
But Samsung is looking back to an invention which pre-dates the technological age for their next innovative feature – and despite relying on little more than a humble sticker, it has some very clever uses.
The tech giant, which has just released the highly-praised Galaxy S3 Android phone, is now shipping 'TecTiles', which are postage-stamp sized stickers that you can adorn to your desk, your furniture, your walls – or anywhere.
Embedded in each sticker is an 'NFC' chip, a new communication chip which is beginning to appear on most high-end phones.
TecTiles: The new technology can help your phone operate in the real-world and follow your instructions without pressing a button
Touching your phone next to one of these stickers can perform almost any action on your phone – and by doing so, you can make phone very much at home in your house or office.
For instance, if you have a wireless internet connection at home which your friends use when they pop round, you could discreetly place a sticker by your front door.
As guests arrive, they could touch their phone to the sticker, and instantly connect to your wifi without any fuss about searching for the network or scrambiling around for a password.
Placing a sticker in your car can let your phone know when its on the move
In the car, a sticker on your dashboard could activate a bluetooth in-car speaker, start playing music, and open a Google Navigation for directions.

Or a sticker on your desk at work could automatically tell your phone to connect to your work wi-fi, and put your phone on silent so colleagues are not disturbed by your Lady Gaga ringtone.
Another use could be to embed your business card details on a sticker – and then you can easily give your details to people with an NFC-equipped phone, like the S3 or HTC One X.
Back at home, another sticker on your table could tell your phone to text your partner saying 'I'm home', connect to your home wifi, and then start streaming music.
What is useful about the technology is that it is extensible, and app-agnostic. For instance, any app developer will be able to adapt their app to accept 'sticker' commands, meaning a variety of currently-unconsidered of uses will emerge over time.
The stickers are available in the U.S. for $15 (ÂŁ10) for a pack of five, and should be available in Europe soon.
—————————————————————
'Draw Something' Game Show Pilot Ordered By CBS "Draw Something" game show pilot ordered by CBS.
CBS has acquired the TV rights to a "Draw Something" game show pilot that could bring the Pictionary-esque Zynga social app to TV, the network announced Friday. Ryan Seacrest will serve as executive producer of the project.
The network described the premise of the game show as a competitive drawing challenge that encourages audience participation. "Each week, teams of celebrities and everyday users will test their skills in front of a studio audience to earn money and big laughs. Viewers can also play along at home for a chance to win prizes and compete with the celebrities."
"Draw Something" represents the CBS' second attempt to turn a viral web phenomenon into TV programming. The network adapted Justin Halpern's grouchy-dad-inspired Twitter feed "$#*! My Dad Says" into a sitcom starring William Shatner in 2010, but the show only lasted one season before it was canceled.
more : huffingtonpost.com
—————————————————————
Bento: The Concept Lunchbox To Cook Your Food And Keep It Warm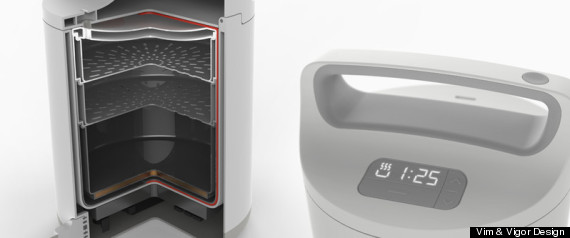 Fast food will take on new meaning with a futuristic lunch box that will cook your food and keep it warm on the go. New York City-based Vim & Vigor Design is touting its Bento Steamer Lunch Box, still in the concept stage, as a steamer that not only cooks food, but has health benefits as well.
"Hectic lifestyles often have people turning to processed foods high in fat, sodium, and sugars," Vim & Vigor told co. Design. "Bento helps people eat healthier by providing an alternative to the convenience of fast food."
Vim & Vigor explains how the lunch box works on its website: "Bento heats up the assembly's base using inductive technology, creating steam from water added to the grains in the bottom container. The steam naturally rises up the assembly, simultaneously cooking the grains as well as the contents of the top two containers. Thus the cooking process is simplified, and the user has a ready-packed meal that will still be warm when lunchtime comes around."
Vim & Vigor are currently seeking manufacturing partners to help make the product a reality.
more : huffingtonpost.com
—————————————————————